Clinical Trials
powered by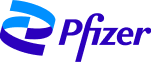 We have partnered with Pfizer to help improve the lives of
cancer patients and their families by democratizing access
to approved therapies for a broad array of cancers. Our
partner Pfizer leads the industry in delivering a robust
pipeline of novel cancer medicines, which in conjunction
with your participation in a clinical trial, has the potential
to deliver meaningful breakthroughs that drive innovation
and transform the cancer landscape.
Learn more about Pfizer clinical trials and how they apply
to you and your family.